Greetings from the CEO
At Whessoe, our vision and company aim is to be recognised as a Centre of Excellence and partner of choice by our global customers, enabling them to meet their business needs in engineering and associated services within the gas and power markets.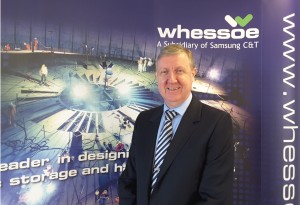 Since it was founded in Darlington by William Kitching and Sons in 1790, Whessoe has consistently delivered remarkable engineering.  From design and build of the Derwent Locomotive for the Stockton & Darlington Railway at a cost of £1,160 in 1845 to the world's first LNG import terminal at Canvey Island  in 1963 and more recently numerous refrigerated gas storage projects in Europe, the Middle East, Asia and the Americas.
Since early 2013 Whessoe has been part of the Samsung family of companies, designing and engineering cryogenic gas storage and import facilities as a wholly owned subsidiary of Samsung C&T.  We bring more than 50 years of experience and lessons learned from around the world to the design of our tanks and terminals.  Our engineers use their experience to understand your business from your perspective and to apply our lessons learned to your often complex and challenging projects to ensure that your business benefits.
We recognise the importance of maintaining the customer focus that we have within the business, delivering the service you expect, combined with responsiveness and flexibility.  Our aim is to add value for you, rather than just doing a piece of work
I would very much like to invite you to visit our website to find out more about us, what we do and how we can help you.  Should you find anything of particular interest, see any opportunities where we can add value to your business or simply want to ask a question, please just give us a call or drop us an e-mail.
Len Taylor
CEO
Whessoe Engineering Ltd