Karstø Ethane Project, Norway
Client:  MW Kellogg/Statoil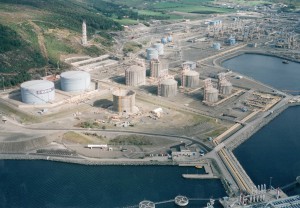 Year Complete: 2000
Project Details:
The Karstø complex lies 30km north of Stavanger in Norway and covers an area of 520 acres. The plant processes gas and condensate transferred from 30 fields in Norway.
The project comprised a 25,000m3 Full Containment Ethane tank with a
9% Nickel inner tank and a prestressed concrete outer tank.
Whessoe's Scope:
Engineering, Procurement, Construction, Commissioning
Whessoe's scope included the Engineering, Procurement, Construction, testing and commissioning of the 25,000m3 Ethane tank to a 5m battery limit which included all of the top side equipment, pipework, structural steelwork and the pipework and structural steelwork to the battery limit at grade.
The outer tank was slip-formed in 13 days to reduce the overall construction programme and thus meet the challenging weather conditions at the site.
The tank was built adjacent to existing live plant with all of the associated safety implications.
The tank was designed to BS 7777 and also had to meet the strict requirements of Norwegian national standards and regulations.