Dragon LNG Terminal, UK
Client: Dragon LNG (British Gas, Petronas, Petroplus)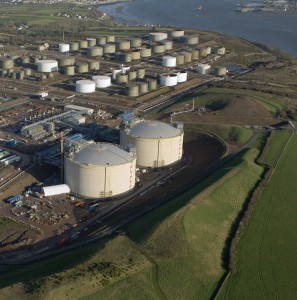 Year Complete: 2008

Project Details:
Located near Milford Haven in Wales, Dragon LNG is a major import terminal for the supply of LNG to the UK and consists of LNG receiving, storage, regasification, flaring and send-out facilities.
The plant and equipment is designed for a throughput of 6 MMTPA. The project included:
Marine Facilities capable of berthing tankers up to 250,000m³
Jetty topsides and transfer pipelines
2 x 160,000m³ full containment LNG tanks
Regasification plant and associated facilities
Whessoe's Scope:
Engineering, Procurement, Construction, Commissioning
Whessoe's scope included the following major elements:
Refurbishment and major upgrade of existing Jetty No 1 dedicated to unloading LNG carriers from 71,500m³ up to 250,000m3 capacity.
LNG transfer 'topside' facilities on Jetty No 1 including three LNG unloading arms and one hybrid arm (maximum unloading rate of 12,000m³/hr, Reloading capability of 1,500/hr).
Two onshore LNG storage tanks of the full-containment type
Boil-off gas handling system, including two BOG compressors and flare.
Six submerged combustion vaporisers (155te/hr each).
Facility Process Control and Emergency Shutdown system.
Power distribution system.
Send out NG pumping facilities and transfer pipeline.
Metering facilities for custody transfer of the high-pressure gas into the NTS pipeline.
All associated utility and safety systems.
Buildings such as the Main Control Room, Local Equipment Room, Jetty Monitoring Building.
Infrastructure including roads, lighting, security fences and monitoring systems, landscaping, etc.
The facility was designed to accommodate potential future expansion requirements. The LNG outer tank walls were constructed using the slip form technique, each tank wall was cast up to the top ring beam within 21 days.
Local facilities in Pembroke were utilised to pre-fabricate modules for the jetty topsides which were then positioned using a barge crane. Pipework was pre-insulated where possible. The project maintained an excellent Health Safety and Environmental record and was built within some very difficult weather conditions.