Manzanillo LNG Project, Mexico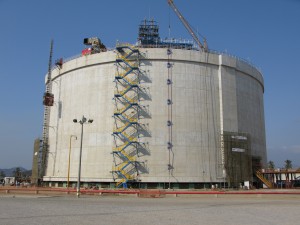 Client: Samsung Engineering Co Ltd
Year Complete: 2012

Project Details:
The Manzanillo LNG Regasification terminal is located in Colima, Mexico, which is a highly seismic area close to the west coast fault line. The area experiences regular earthquakes up to 8.0 magnitude on the Richter Scale.
Whessoe's Scope:
Detailed Engineering, Site Supervision
Whessoe executed the detailed tank design of the two 150,000m3 full containment LNG storage tanks. The specific seismic design conditions utilised for the tanks were a 0.4g peak ground acceleration for OBE and a 0.8g peak ground acceleration for SSE.
Whessoe undertook the detailed seismic analysis and design of the tanks, adopting a base isolated structure comprising 340 triple pendulum friction isolators.
The tanks are founded on 452 1200 mm diameter piles placed after dynamic compaction of the ground to counter soil liquefaction.
Whessoe's fully integrated design team carried out the detailed design of the whole tank and associated systems. This included outer tank, inner tank, top side structures, process systems, electrical and instrumentation systems and piping. Due to the high seismic nature of the site and the use of seismic isolators, the team carried out a detailed seismic analysis of the major tank pipelines and support structures. A special articulated piping system was designed to cater for the large tank movements which occur during seismic events.
Whessoe worked closely with Samsung on the design and site supervision of the tank project.